NOTE - The following mod was originally submitted to the Tech Rally group on Yahoo by Ray Wilkes in August 2004. PDF (242KB)
Super Freezer for FD and QD
Although the smaller Norcold 3163 refrigerator in the FD and QD do not have freezer compartments, with a little duct tape and Styrofoam, you can make a "Super Freezer" that will freeze two full size trays of ice cubes over night.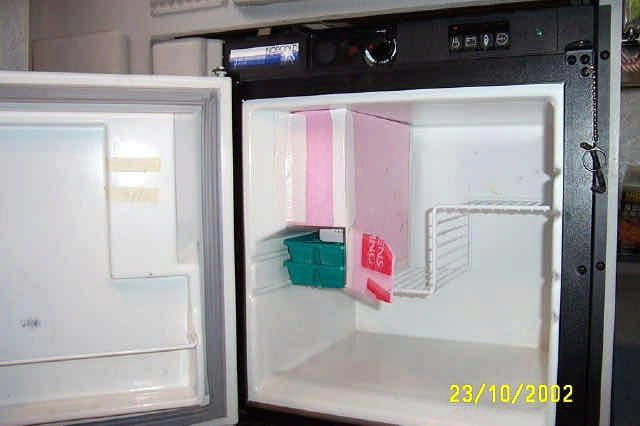 APPROX. MODIFICATION TIME: .5 hours

PARTS LIST:
| | |
| --- | --- |
| Styrofoam | <$1 |
| Duct tape | <$1 |
| Wax paper | <$1 |
| Two full-sized ice trays not TO exceed 4 3/8" wide x 10 3/4" long | <$1 |
| APPROX. TOTAL COST OF PARTS | ≈ <$5 |
INSTRUCTIONS:

NOTE: A full-size template for cutting parts is available from R. Wilkes.

Cut and prepare Styrofoam and duct tape according to diagram on next page.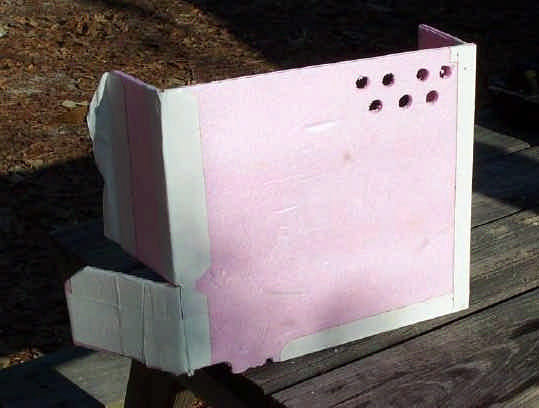 Freezer with door closed. Note: Styrofoam panels extend to the ceiling of the refrigerator and enclose forward cooling fins.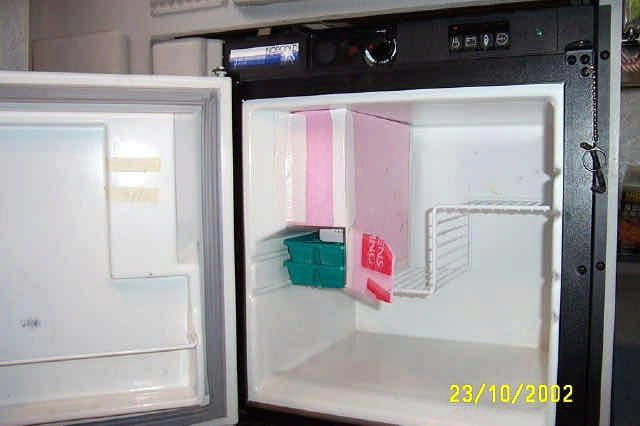 Freezer with door open. Two full-sized ice trays (4 1/4" x 10 3/4" with 14 cavities) fit nicely and freeze ice cubes overnight. Note: Although not obvious, the side panel does not go to the back wall, but instead, an aft panel fits between the aft fins of the cooling section, so the temperature sensor remains in the refrigerator compartment and not in the "Super Freezer" compartment. Also, the lower forward part is trimmed so as not to interfere with pop cans in the refrigerator door.
---
Additional Modifications: