Replacing the Norcold refrigerator with an all-electric compressor model has both its advantages and disadvantages. Chief amongst the advantages are the much more responsive cooling and freezing systems, significantly less heat discharge, greater reliability, and usually a larger refrigerator. The disadvantages are the lack of the capability of running on gas or DC when desired, the requirement for a large capacity inverter in order to operate while driving, and the problems with fitting the new refrigerator into the existing cut-out without making major modifications to the finished appearance.
Apparently fitting into the HD with its "washed maple" cabinetry is the easiest. The FD and especially the QD models are somewhat more difficult because of the limited cabinet cut-out size.
Popular models being used include the 2.7 cu. ft Haier HSP03WNABPG available at Wal-Mart, about $100. There are other models of Haier with similar dimension but they are not carried at Wal-Mart. Others have used a Sanyo Model SR-3770S. Note that the Haier is slightly smaller than the original Norcold but the Sanyo, being a 3.7 cu. ft. model is slightly larger than the Norcold.
On This Page:
---
Haier HSP03WNA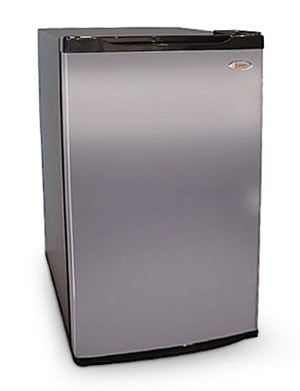 This compact fridge is roomy enough for your groceries but small and sleek enough to fit in anywhere. The silver door gives it a modern look, while the two full shelves and door compartments provide outstanding efficiency.
Black cabinet and reversible silver door
Half-width freezer compartment with ice cube tray
2 full-width slide-out wire shelves
2 full-width door storage shelves fits up to 2 liters
Adjustable thermostat
Manual defrost
Model No.:HSP03WNABPG
Shipping Weight (in pounds):70.5
Product Dimension (L x W x H):19.7 x 19.7 x 26.3
Wal-Mart No.:001558035
Type Of Door Swing: Reversible
# of Refrigerator Door Shelves/Bins:2
Total Refrigerator Capacity: 2.7 cu. ft
Service & Support Type: 1 Year
Appliance color: Stainless Steel
Haier HSP03WNA Parts Manual (PDF)

Haier HSP03WMA Service Manual (PDF)
---
Sanyo Sanyo SR-3770S Information
3.7 Cu. Ft. Cold Storage Capacity
Full-Range Thermostat Dial Control
Coated Stainless Steel Door Resists Fingerprints
Durable Countertop
Reversible Door
Smooth-Back Design
Ice Compartment with Ice Tray
Vertical Can Dispenser
Spill-Proof Interior Shelves
Dimensions (WxHxD):18-5/8" x 33-1/2" x 19-7/8"
---
HD Installation
From: "John Rees" <jerees1@...>
Date: Fri Mar 31, 2006 3:42 pm
Subject: New Refrigerator

I completed changing my refrigerator from the 2.7 cubic foot Norcold to a 3.7 cubic foot Sanyo compressor refrigerator (black w/stainless steel door (Sanyo SR-3770S Compact Refrigerator) from Amazon.com - $179.95 - free shipping). It involved a pretty fair amount of fabrication on the cabinet since the new unit is a few inches higher, but it fit and I didn't lose any existing storage space.

I'm using a 700/1400 watt inverter to accommodate the high starting current. It pulls about 6.5 amps when it's running. So far so good. It's very quiet and gets very cold very quickly (made a batch of ice cubes in about a half hour).

The real test will come when I want it to keep things cool when we're not plugged in, and not driving for 8 or 10 hours.

John Rees '02HD
---
FD Installation
---
QD Installation
---
Additional Modifications: