[ HOME ]
Model Information
VW Service
Winnebago Service
Tours & Pictures
This modification is for the Model HD or QD with the "rear dinette".
NOTE - The following mod was originally submitted to the Tech Rally group on Yahoo by Pat and Govind Menon in September 2004. PDF (103KB)
Rear Couch Foam-Roll
For the rear coach bed, make a foam-roll that is easy to use and efficient to store.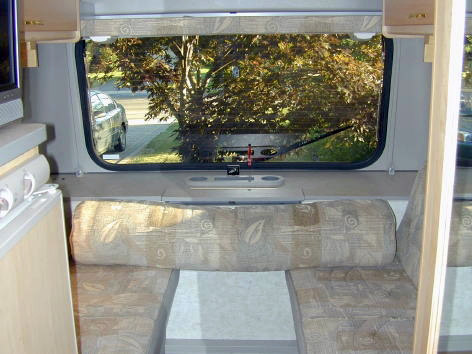 APPROX. MODIFICATION TIME: 3 hours

PARTS LIST:

All prices are pre tax.
| | |
| --- | --- |
| Memory foam, 2" thick (with cover) | $100 |
| Fabric for the foam-roll cover, two yards | $10 |
| (Matching fabric ordered from Winnebago) | ($60) |
| Straps with buckles to hold the foam | $10 |
| Zipper, thread, and sundry sewing needs | $10 |
| APPROX. TOTAL COST OF PARTS | ≈ $130 |
INSTRUCTIONS:

The foam roll is 2" memory foam cut to fit the rear bed area. (The foam we bought at Costco came with a mattress cover.)


I had the roll cover made by a local upholsterer. We ordered two yards of fabric from Lichtsinn Motors, and had almost two feet by 52" leftover, which we used for curtains and saved for later ideas! You can make a simple cover with an opening along the side of the "sausage" and with fabric pulled in at the ends of the "sausage" using a cord through casings. The side opening can be fastened with hook-and-loop or a zipper.


The roll-cover is opened with a zipper, and the foam itself is strapped in four places. This makes the foam much easier to put in and out, without much strain on the zipper.

We decided, however, to expand the modification by building more storage under it. We built shelves to hold a variety of things and used leftover material to make a curtain.

The table fits down over the whole thing quite neatly.
---
Additional Modifications: