Not until the 2003 and newer models did Winnebago finally incorporate a battery disconnect switch into the Rialta. All owners of earlier models are encouraged to install this simple but effective modification to their coach batteries.

The reasons for wanting such a disconnect switch are two-fold. First, if you are storing your vehicle for an extended period of time such as over the winter months, then the propane sensor which is hard wired to the coach batteries will eventually run the batteries totally dead. Having the capability to disconnect the battery from such parasitic power drains will help the battery maintain its charge.
Second, if you drive your vehicle on the highway all day long, the engine alternator has probably fully charged your coach batteries but when you plug into 110v power at a campground for the night, the power converter box will continue to charge the batteries potentially boiling out the electrolyte. Even if your batteries are fully charged, driving all day long allows the engine alternator to send a full charge rate to the already fully charged batteries. Under such conditions you can disconnect the batteries while driving and the engine alternator will still power the refrigerator and other items.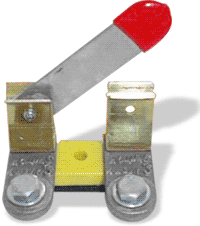 While the coach batteries are designed for such deep-cycle conditions, you can avoid problems and shortened battery life by installing a disconnect switch which effectively isolates the batteries from any load.
A simple "knob-type" or "knife-type" switch are the two most commonly used items. Which design you use doesn't matter as they both accomplish the same thing. In fact, you can accomplish the same thing by loosening and removing one cable from the battery post but that gets messy and by using the switches, you don't get battery acid or grease all over your fingers. They are available from most auto parts stores and cost should range from $5 to about $15.
There are more elaborate switches made for mounting on a panel or wall but those would require running battery cables from the battery posts to the remotely mounted switch. PDF (306KB)
| | |
| --- | --- |
| | |
| Knob-type Disconnect Switch | Knob-Type Disconnect Switch Installed |
---
Additional Modifications: